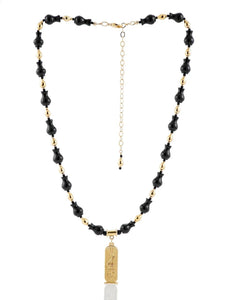 Midnight Vases Necklace
Regular price $135.00 Sale
Some classics last through the epochs.  As part of our Companions of the Ancients Egyptian Revival Collection, the polished onyx and gold vase shaped beads present an elegant statement.  Available with any of our Companions of the Ancients cartouches (Cat, Dog, or Horse) it will compliment a wide variety outfits. 
Unique Black onyx and 18K Vermeil vase beads with cartouche 19" with 4" extender. The 4" extender allows it to be worn with collared shirts or drape down the back as a lovely accent.
The price is adjusted depending on the selected cartouche. Also, please note that this is a unique necklace, so only one variation of the necklace is available for sale though the store will allow you to add one of each cartouche to your cart.