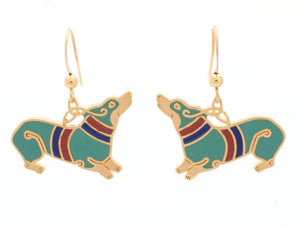 Celtic Vermeil Pembroke Welsh Corgi Earrings in Malachite Mineral Resin
Regular price $160.00 Sale
These earrings have our Small Celtic Pembroke Welsh Corgi in 24kt Vermeil (Sterling Silver with thick Gold plating), shown filled with Mineral Resin. 

The Celts loved color and these are filled with Malachite, Red Ochre, Lapis Lazuli Mineral resins.  
They are available fwith 24kt heavy plated 14kt french wires or leverback findings.
Please visit our blog post "Genesis of a Design – Celtic Corgi" to learn more about the development of this design and choice of pigments inspired by the Book of Kells and other illuminated medieval manuscripts.
To complete your look, please see the Celtic Pembroke Welsh Corgi on a Meander Necklace with Mineral Resin at the link below.

Celtic Vermeil Pembroke Corgi on a Meander with Mineral Resin


 Thank you for visiting our site.